Streatham Drop-In Centre provides a wide range of practical services to help asylum seekers and refugees receive the support they need to play a full part in the life of the wider community.
We offer crèche and play facilities for young children at the Centre, which aim to improve confidence, enable children to take advantage of education, community and play activities and to improve their overall quality of life. This is supported by a grant from BBC Children in Need.
Our services include:
General Advice Drop-In Service
General information and advice is provided by qualified staff and experienced volunteers. This includes assistance with welfare, housing and social needs.
Users are referred on to a range of mainstream and specialist services where required.
Health Advice Drop-In Service
Health advice is provided through a specialist Refugee nurse in partnership with the Health Inclusion Team, Guy's and St Thomas' NHS Foundation Trust.
The health advice service provides a range of free and confidential services, including:
a full health assessment

screening for blood borne viruses 

sexual health screening

routine blood tests

advice on how to manage long-term diseases

advice and intervention for people who suffer from long-term pain related to traumatic experiences

referral to other services where necessary.
On Fridays, a health advice and advocacy caseworker is available to advise on health and welfare related issues.
Women's Wellbeing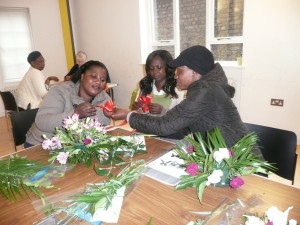 We also run Women's Wellbeing sessions targeting individuals who experience poor mental or physical health. Previous activities have included jewellery making, yoga, music & movement and healthy lifestyle promotion.
English Language Classes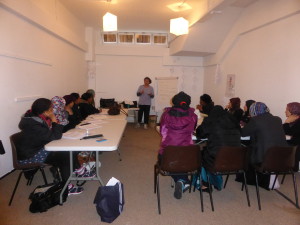 We currently run free volunteer-led English classes. Access to English learning and conversation is crucial to our users as it enables them to gain confidence and independence. Classes comprise both structured activities and conversation, managed and delivered by a dedicated team of volunteers.
Homework/Family Learning Project
The Homework and Family Learning Project provides homework support with literacy and numeracy for primary school age children plus advice, advocacy and training on the UK education system for their parents. Parents also attend a programme of literacy and numeracy workshops to enhance their ability to support their children's education.
The Homework and Family Learning Project is funded by the Wallcot Foundation
Programme of Activities
We provide a programme of educational, community based, activities, trips and events.  In the past this has included trips to Vauxhall City Farm, Horniman Museum and West Wittering, while closer to home we have held picnics in local parks and participated in stalls at Streatham Festival and Lambeth Country Fair. As well as offering our users a valuable opportunity to relax, these activities encourage independent attendance at local sites of interest and special events.
We also have a long-standing relationship with Tate Britain's community outreach programme, and our users continue to visit Tate sites on a regular basis.
See Tate's Big and Small project for a video featuring some of our users.